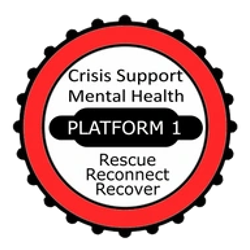 Platform 1
Counselling Services
Our mental health counselling services include, but are not limited to:
Bereavement
Trauma and PTSD
Addiction
Depression and Anxiety
Counselling Services
IMPORTANT NOTICE!!
Referrals are now being taken via referral from your GP or social prescriber.
ADDITIONAL NOTE:
Due to flooding and vandalism the "Safe Site/Workshops Site" is temporarily closed. All efforts are being made in order to reopen this site as soon as possible.
Welfare
Platform 1 recognises that many things can contribute to causing your mental health to deteriorate. Some of these things can be the practical things in life. When you are at your lowest point it is difficult to sort out things such as paying bills or making phone calls.
Our welfare service will help people to fill in forms, sort housing and benefit issues, make doctors appointments and if needed act as an advocate when the person needs to attend a meeting. This service is open to all the people that use our service.
Contact Us
Support Groups
Our support doesn't finish when the counselling ends, we have a multitude of support groups all delivered from our, 'Training Trains' which are situated in Huddersfield railway station. These groups are often peer led but with the addition of having qualified staff on site just as extra support.
Prostate Cancer Support
Menopause Support
Sexual Abuse Support
Domestic Violence Support
We also have therapy groups such as Creative writing, music therapy along and games mornings.
More Info