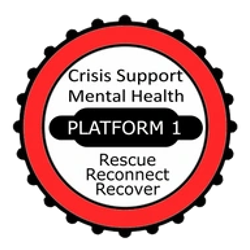 Our Counsellors
Many of our counsellors are trained in more than one of the many issues people may encounter. So unlike a lot of other counselling services where you may only be able to receive help for one issue, we can deal with a multitude of issues.
Quick & Easy Access
Mental health is a broad and complex issue, there is no 'one size fits all' approach. At Platform 1 we realise that just trying to access help for mental health problems can be a trauma in itself. As a result of hearing peoples experiences we have tried to make things as easy as possible. One phone call or one referral is all that it takes to set the ball rolling. On your first visit you will be allocated to the person best suited to support you with your difficulties. This may be a Counsellor, Crisis Support or a Welfare Worker. That person will support you throughout your Mental Health Recovery meaning that you will always speak to the same person.
Continued Support
Our support doesn't finish when the counselling ends, we have a multitude of support groups all delivered from our, 'Training Trains' which are situated in Huddersfield railway station. These groups are often peer led but with the addition of having qualified staff on site just as extra support.
Support Groups